George Edward (Eddie) Stone, Born 1908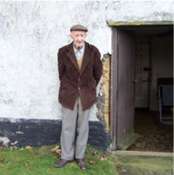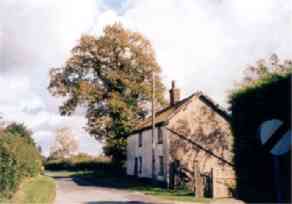 Edward Stone at his house, The Cottage, 2002
George Edward Stone was born 30th November 1908 and as a boy lived at Avalon Farm, Suton. From 1936 to 2003 he lived at The Cottage, School Lane, Spooner Row and then was moved to a nursing home at Hingham where he passed away aged about 98. He was brought up on farms and worked at Lotus for 14 years. The following memoirs are of Spooner Row and Suton and were written in his own words. This record is a combination of his notes given to K Dunn and V Grint – two of his neighbours from School Lane:
"Things I remember by George Edward Stone aged 94 on 30th November 2002 living at The Cottage in School Lane, Spooner Row for 66 years.
The first thing I remember is the great flood of Wymondham in 1912 when half of Wymondham was under water. I was only 3 ˝ years old but remember looking out of the back door at Avalon Farm, Suton and the fields were running with water like big lakes. The river which runs through the village overflowed onto the fields making two great lakes running through the hedges from one field to the other. It rained for four days and four nights. A pony and cart was washed down the river near Wymondham Station and a pony and pigs were drowned. My father put one of our horses in a tumbrel and went to the fields near the Suton Rail Crossing to see if he could save any chickens, which had been put out on the fields. Only one little chicken was saved it had jumped on the hens back and it was always known as Old Flood. Where the Spooner Row road joins with the Suton Road there was such a deep flow of water the horse could only just hold his feet. On the corner was an old cottage lived in by the Mosley family and they had to get upstairs out of the water. Mr Mosley was a retired policeman.
My next memory is going to Spooner Row School. If we were at school early we would go down to Spooner Row Station and watch the two milk trains come in from Norwich and London. The farmers used to bring the milk in churns and put them on the train for London. Both trains would arrive at the same time – The Norwich one picking up the full churns and the London one on its way back with the empties from the day before. The timing was better in those days.
I remember Mr Williams as the School Master, and his wife. There were three boys, the oldest one was called Eddie - he was a dare devil and he had done something wrong in School. Mr Williams had tried to give him the cane but he withdrew his hand every time and in the fight he knocked over the board and easel. He had to go to the old Browick School in Wymondham for a period. Douglas Durrants granny used to go to school there. People only ever went to Spooner Row School and they would stay there until they were 14 years old.
I remember there being a Station Master living in the big house with a ticket office and two porters. There were three coal merchants at the station yard called Ficklins, Morter and Leeder. Fat pigs were also loaded there for the bacon factory by Jack Brown of Blue Tiled House. He later started taking the farmers to Norwich market in a Ford lorry on Saturdays. The market was in the middle of Norwich. Some of his pig sheds had aeroplane wings for their roofs with the red, white and blue rings on them. Jack Brown later started the local bus service called Norfolk Coachways of Attleborough.
I remember the German Zeppelins coming over at night in the First War because I was isolated for 6 weeks at Avalon Farm with diphtheria and did not sleep at night. They dropped a firebomb at Sawyers Lane near to where Leske's garage stood. Jimmy Gooch lived in the cottage near to where it dropped and I remember him saying "I thought my time had come".
I remember a gang of about twenty German prisoners coming off the train each morning with two soldiers as guards and doing something behind the Village Hall. They set themselves up for us to play leapfrog. I don't know if the Master ever knew.
The Village Hall was known as the Corn Granary then, plus Granary House and was once run by a Mr Watts (there were two brothers). They used to buy grain from the farmers and send it to the maltings on the train. Mr Martin later used it to build large poultry houses and he lived at one end of the building. He later went to the top of Station Road to build caravans.
When I was about 17-18 years old, I remember a rail strike when there were no trains and the gates at the level crossing were open to traffic all the time. The gates were smaller then and opened outwards. The traffic flowed through all the time and Station Road was like a racetrack. At that time there was a family by the name of Desborough living at Wattlefield with American connections. To keep things moving, their father who drove a steam wagon at that time, took on the job to deliver the farmers' milk train to London each day. There were two soldiers on board and you could run and keep up with the engine, as he had to go slow and watch out for the traffic. I think he had driven trains in America.
The road known as Station Road used to be called Gobblers Lane because of the male turkeys' behaviour. This story was told to me by Mrs Routh-Clarke (who is buried in the Spooner Row Churchyard with her husband) that many years ago the turkeys were walked to London with tar on their feet. They would drive the turkeys through a bed of warm tar and then through soft sand to give them boots to protect their feet for the journey. Mr Carter who lived in this cottage then, would take them. They walked to London in stages doing about six miles a day. They would stop at allocated places where there were some trees for them to roost in for the night and there would be an inn nearby. The next morning they would feed them grain and water and continue towards London. They were sold at the Christmas market.
When I went to pay my rent for this cottage Mrs Routh-Clarke asked me if I would know Mr Carter if she fetched a photo of him. I said no, but I remember an old lady Carter living here for when I first went to school I remember as a boy, peering through the window at her.
I remember the old Boars (Pub) fire with the poor old horses pulling fire engines over Suton Crossing exhausted and all out of steam. The fire engine was a horse-drawn cart carrying water and a pump and hose which came from Wymondham. The horses were at full gallop, and the water source was low, and the gush was poor.
I remember the bombing of Norwich in the Second War and when they dropped them out here. They bombed Norwich for two nights and on the third night Norwich had built some heavy artillery at Mousehold. It was too much for the Germans and they dumped the bombs in Spooner Row and Suton. At Chepore there were great lumps of clay where the bomb had blown the soil out like great lumps of cement. They dropped a land mine with a parachute (to slow it down) and everyone thought it was a German bailing out and ran towards it. When it exploded there was a great hole in the ground and John Chilvers was knocked unconscious. The doorways of the nearby cottages were all on the wonk and Fred Young said there were birds' nests hanging down from the damaged ceilings.
I came to live here at The Cottage, Spooner Row 66 years ago. This was the only house in this road and towards the Station. At the house next to me, there was a large pond full of fish, which no one could catch. You only caught one by putting a net down in the mud, as they were bottom feeders. There were two shops - one was called Whartons and it was in three sections with a post office, general stores and pork butchers at the Station end. The other was a small shop at the top of Queens Street called Spratts Stores. There was no Playing field in those days. I remember a Jubilee when there was a cart horse race on the meadow at the back of Pilgrims Farm.
There is Wick Hall off Station Road, which can never be fully explained down a long lane like all Halls are. They said there was no Hall but why was a moat dug if there was no Hall? There was 40 acres of land with it. It does not make sense, perhaps it was destroyed by fire - that is just possible. I remember when I first went to school, some of the big boys running up there in the dinner hour. They would cool their feet in the moat and said if the water was clear you could see Dina's coffin at the bottom. It is now the home of foxes."
NOTE: there are more memories from Edward Stone to be added to this page.