Spooner Row Primary School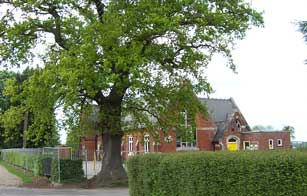 Spooner Row Primary School was built in 1875 at a cost of £1,063 and 10 shillings. It first opened in May 1875 with 110 children on roll. It now offers an all-through primary education for children from five to eleven years old. The school works in close partnership with the Spooner Row Acorns pre-school group. A traditional village school, it is situated on the edge of Spooner Row village about three miles from Wymondham town centre. Although it has a Victorian foundation, its buildings have been adopted over the years to meet the needs of the modern primary curriculum.
For further information and to access the Spooner Row Primary School website click here.