MR R.C.L. Smith, Born 1918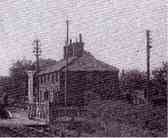 Railway cottages
This is an extract of a letter written by Mr R.C.L. Smith - a Normandy Veteran. It was addressed to Joy and Charles Boldero (dated 5 Feb 2006) in response to their Spooner Row Walk which featured in the EDP.
"I was born in the railway cottages near the station, the end nearest the road. It is the house in your photo near the signal box. You put the signal box was built in the 1880's but this isn't correct as I remember it being built probably in the 1920's. Before this there was a single storey box there and I remember it being dragged away. I was born in 1918 and my father was ganger platelayer on the Spooner Row length.
I well remember the Three Boars fire. I was going to Sunday school with my brother and we saw smoke coming around the corner. We went to the Boars and there was smoke coming from the roof in a 2ft 6in circle, and Mr Blythe the Landlord was up at the bedroom window with a pail of water, which he tried to throw on the roof. The eave of the thatch was so low he was unsuccessful. A man then cycled into Wymondham to raise the alarm. The firemen caught the horses on The Kings Head Meadow, harnessed them into the fire engine and galloped to Spooner Row. By the time they arrived the inn was well alight.
My dad was one of the men who pumped the engine, there being four men on each side.
I can also remember the village hall. It was originally a grain store, then it was used for building sheds and chicken huts. A Mr Martin used it and built rooms in it and lived there with his family. Later it was used by Eclipse Caravans who moved to the top of Station Road.
There is a story about the village that I don't expect you were told. During the war people collected for a "welcome home fund" for ex-service people. My dad told me he gave a little from his wage every week. Then when we came home we got nothing. The money was used towards the village hall fund. The village hall for a time was called "Robbers Hall".
Mrs Routh Clarke and the W.I. were so incensed by this, they arranged a bus trip and took us ex-service people on a trip to a hall. I believe it was Somerleyton and then on to Yarmouth where we had a meal.
The moat you mentioned was to do with Wick Hall. There was no building there when I went to school. We used to go for walks there regularly.
I attended Spooner Row School from 4 years old until 14. My mother was school cleaner all the time I attended and used to light the fires early in the mornings."